Workshops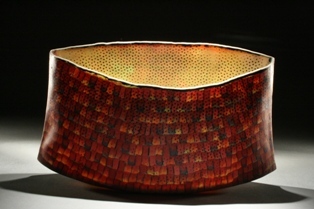 Curtis Benzle
Workhouse Ceramics Workshop

"Color in Clay"

Demo/Hands-On Workshop w/ Curtis Benzle  

"Color in Clay" will explore and explain the range of expressive potential  uncovered when color is actually in  your clay!
Day one will introduce techniques including neriagi (marbleizing), nericomi, slips and a brief technical discussion of how to make colored clays, color blends and pattern generation.
Day two will be dedicated to hands-on reexamination of the concepts introduced on Saturday.

* Participants will be able to have any work they wish to keep bisque fired.   Participants will be called when ready for pick-up. 
*Workshop participants should also plan to participate in group discussions, bring a bag lunch each day and sketchbook(s).

October 25-27, 2013
$190.00 ($180.00 Students/Members)
October 25- Reception and Artist Talk-7pm-9pm (Building W-16)

October 26-27 Workshop 10am-4pm (Building W-8)
Exhibit-September 14-October 27, 2013-Main Gallery Bldg. (W16)

Register online (after 1/1/2013) at
www.workhousearts.org
or
Call
Dale Marhanka-Ceramics Director at 703-584-2982

Upcoming Workshops
Steve Loucks and Lynnette Hesser -Spring 2014
SEAFEST Symposium-Fall 2014

Julia Galloway-Spring 2015
Andrea Keys Connell-Fall 2015