Drink This! 2015

Drink This! Workhouse International Ceramic Cup Show 2015
Drink This! 2015 showcases ceramic drinking vessels by contemporary artists around the globe. The focus of the exhibit is on the variety of ways artists explore the cup, in functional, sculptural, traditional and non-traditional forms.
Thank you! to all who applied for the 2015 Drink This! Cup Show and a special Thank you! to Phil Rogers for jurying the 2015 exhibit.
Pam Eisenmann- Co-Curator
Joan Ulrich- Co-Curator
Dale Marhanka-Ceramics Director

The cup is probably the most fundamental ceramic necessity in our daily lives. I have my favourites that I use almost every day and then, on other days, just to ring the changes, I enjoy making my choice from a couple of dozen in the cupboard. Will it be Richard Batterham or Mike Dodd perhaps Lisa Hammond or Paul Young. We form an association with our cups and when one gets broken its like losing an old friend.

I want my cup or mug to function well...I want a comfortable handle, well placed and thereby balanced that isn't going to burn my finger because the gap is too small. I want a rim that isn't going to knock my teeth out and a weight that feels right in the hand. I want a surface that pleases me...a surface I find interesting to look at and to hold. Above all I need a shape that I admire, a form with a 'rightness' that I find pleasing in a way that is almost indefinable. I always seem to gravitate to a form that, in my mind, I say to myself, 'I wish I'd made that'. I enjoy understatement...I don't care for over embellishment and unnecessary fripperies. The entries in this competition display an amazing variety of approach. The seemingly endless stream of creative endeavour from ceramic artists never ceases to amaze me. However, competitions are exactly that...competitive... and I know there are some who are going to be disappointed. There were some that I felt, frankly, weren't good enough but there were many, well made and well presented that just didn't sit well with this juror given the restrictions of space and numbers. Those makers have just been a little unlucky with this choice of juror and I am sorry for the disappointment. I have been there and I know what it feels like!
The bowl that has attracted 1st prize is one that I was immediately drawn to. The subtle and gradual changes of colour as one's eyes move across the wood fired surface of the piece together with the almost tangible softness of the glaze makes it almost edible. The form is as perfectly orchestrated as it can be and the shell imprint just adds another dimension. It is, for me at least, the stand out entry and as a wood firer myself this is a bowl that I covet unashamedly.   The juror's task has, I think, two elements. One is to choose a show that reflects a particular jurors taste and vision as much as possible and secondly...to provide a show that is balanced with pieces that sit well together in their obvious variety. I hope I have achieved that....I gave much thought and consideration to the choices and I trust that, for the most part, they will meet with the approval of makers and visitors alike.
Phil Rogers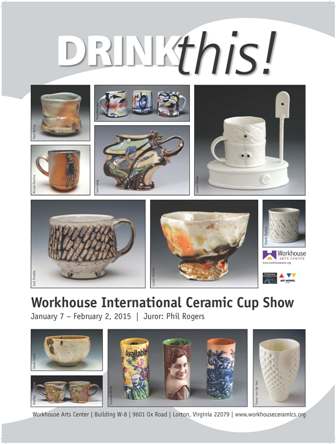 Awards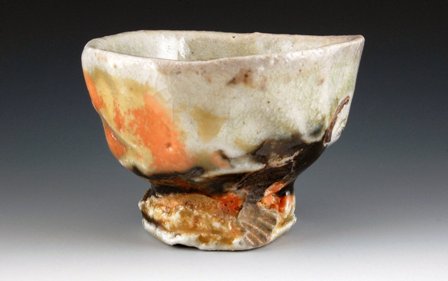 1st Place - $300-Lucien Koonce-Massachusetts

2nd Place - $200-Leilani Trinka-Singapore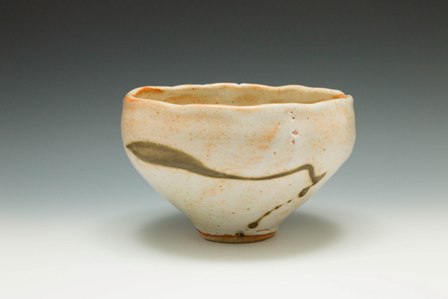 3rd Place - $150-Sarah Gabel-Illinois

Honorable Mentions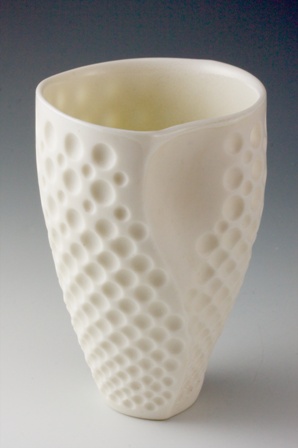 Simon van der Ven-Maine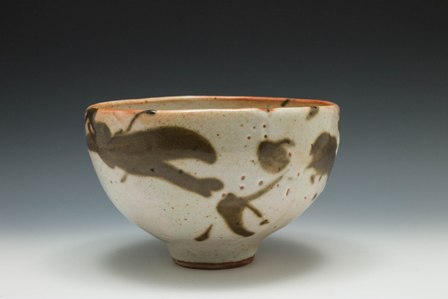 Sarah Gabel-Illinois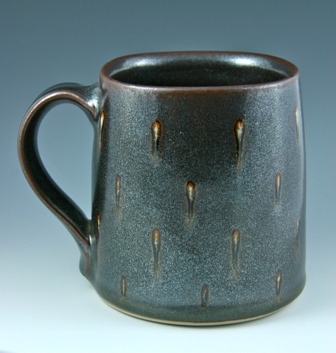 Chuck Brome-Virginia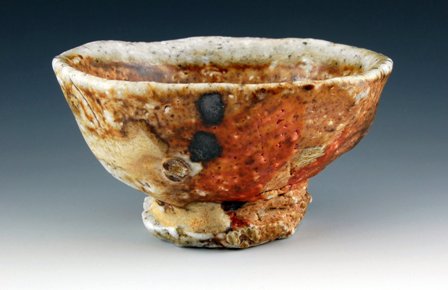 Lucien Koonce-Massachusetts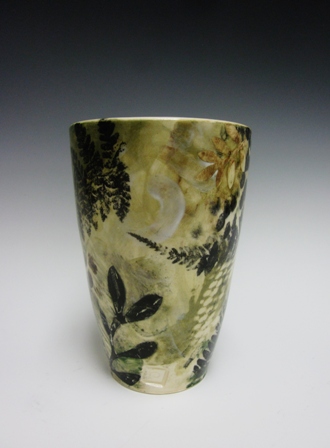 Rebecca Verrill-Maine
Exhibit Photos